Digidesign Eleven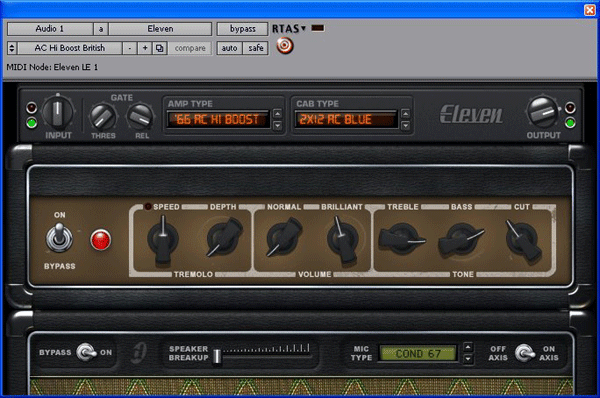 Eleven™ is a virtual guitar amp plug-in for Pro Tools®, VENUE live sound, and AvidŽ systems. Eleven will take any recorded guitar track or even a direct signal played live and run it through any combination of realistic guitar amplifiers, speaker cabinets, and microphone emulations. With the exception of tremolo found on many vintage amps, there are no effects in Eleven--and that's a good thing since it is specifically coded to take full advantage of all PT resources necessary to produce some of the most present and real amp tones and cabinets I've heard.
Eleven emulates characteristics of a guitar's amplifier and cabinet combined sound including: speaker cone breakup, amplifier sag, cabinet resonance, and ghost notes. Most importantly and just like an actual amp, the plug-in's sound reacts and responds to an individual's style and technique.
There are emulations based on the most coveted amps and cabinets from Vox®, Fender® ('59 Tweed Deluxe is my fave), Marshall®, Mesa/Boogie®, and Soldano®, plus a couple of Digi hybrid modern-sounding versions. I liked that all similar panel controls stay in the same positions as you click through other amp models. In addition, you can add convolution-based speaker cabinet and microphone modeling--including your choice and positioning (on or off axis) of up to seven different dynamic, ribbon and condenser microphones.
Eleven supports TDM, RTAS, and AudioSuite formats in Pro Tools|HD®, ICON, and VENUE systems. Eleven LE supports RTAS and AudioSuite in Pro Tools LE® and Pro Tools M-Powered™ systems. For more information about Eleven and the 30-day trial, visit: www.digidesign.com.
---
Web Page design is copyright © 2008 by Barry Rudolph