WaveMachine Labs' Drumagog Version 4

Read About Drumagog 5!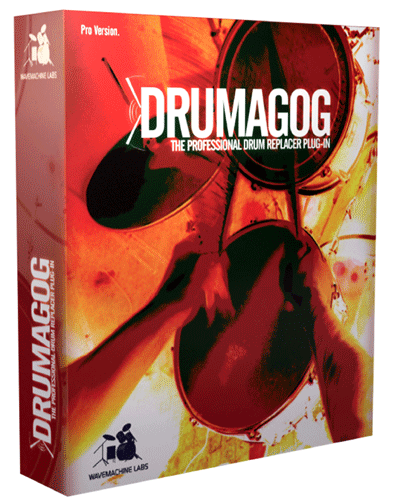 Drumagog has earned its position as the defacto standard drum replacement software due to its advanced triggering engine that makes a heretofore hit or miss process work nearly perfectly. Drumagog ver 4.0 steps it up with a totally new, re-designed triggering engine that accurately tracks incoming audio and replaces every drum hit--nuances and all better than ever.
There are three triggering modes: Simple with minimal CPU load works perfectly for about 90% of the time; Advanced (available in both the Pro and Platinum versions) provides the best performance possible and includes a smart algorithm that minimizes false triggering and maximizes sensitivity; and Live (available in both the Pro and Platinum versions), a zero-latency mode for using Drumagog as a "drum brain" for drum trigger pads.
One of the mainstays of Drumagog has always been the dynamical, random and positional multi-sampling (the .gog file system) for the ultimate in acoustic drum and drummer realism. Another unique feature is Visual Triggering that simplifies the adjustment of the triggering controls using a scrolling real-time waveform display that shows which incoming hits will trigger Drumagog and which will not.
I installed Drumagog into my Pro Tools rig and was instantly replacing kicks, snares and toms with ease. It's so easy and fast that it does not cut into my quick-paced mixing process with time-consuming trigger tweaking. BFD Triggering (only available in Drumagog Platinum and BFD versions) triggers the whole library of BFD's sounds--cool! I like everything about Drumagog: the ability to mix the original track with a new sample--even if there is wanted leakage on the original; and Drumagog's way to convert drum hits into MIDI for triggering of external drum machines and virtual instruments like Halion and GigaStudio.
You can't miss (pardon the pun) with Drumagog. Find out much more at www.drumagog.com
---
Web Page design is copyright © 2008 by Barry Rudolph