Solid-State-Logic Duende Mini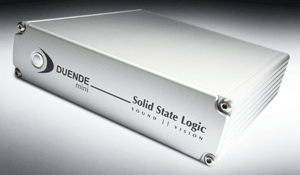 SSL covers the entry-level to pro DAW user with the Duende Mini Firewire DSP unit. Both the Duende and Duende Mini offer a way to use the equalizers and compressors and more from SSL's high-end C-Series digital consoles. All the electronics necessary are inside the Mini's one third rack space cabinet--simply connect it to your DAW computer, load the included software and you'll have up to 16 channels of plug-in processing (at sample rates up to 96khz) within your host application.
Requiring no CPU power from your rig, Duende Mini is upgradeable to 32 channels and you can run two Duende units on a single computer system for up to 64 channels of processing.
To get you going the Mini comes with the classic SSL Channel strip plug-in with either E or G Series 4-band EQs, two shelving sections and two parametric low-pass and high-pass filters plus a soft ratio compressor and expander/gate. Later you can add other plug-ins like: the stereo G Series analogue mixing console compressor; Drumstrip, an unique drum kit processor; X-EQ is an open and transparent sounding ten-band parametric EQ; and X-Comp, a mastering grade stereo compressor with a few tricks and nods to vintage compressors thrown in.
Duende Mini sells for $995MSRP and the 32-channel upgrade is $399. Visit: www.solid-state-logic.com/music/Duende/Mini/index.asp
---
Web Page design is copyright © 2008 by Barry Rudolph