EastWest's Quantum Leap Ministry of Rock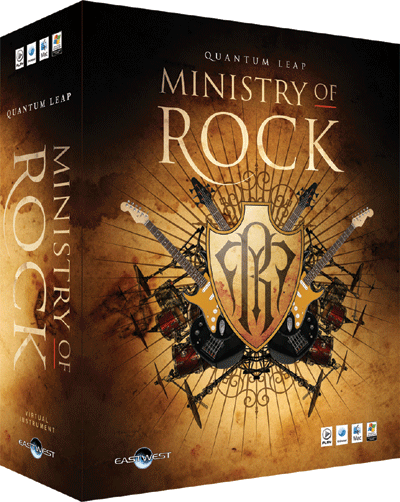 Quantum Leap Ministry of Rock is a virtual instrument with a 20-gigabyte collection of rock drums, basses and guitars. It uses EastWest's new Play engine technology. Producer Nick Phoenix has assembled a seminal set of classic Rock instruments and recorded them using the same engineering techniques and studios featured on countless platinum and gold records.
I loaded MOR into my Pro Tools rig and was impressed with the realistic way the samples sounded and the thoughtful way they are organized. Not only are all the guitars, bass and drum sounds immediately usable without modification, they seem to nearly play themselves. With articulations and programming taken from actual performances, I don't see how anybody could not make a great sounding record or film score using MOR.
Drum kits sampled for Ministry of Rock include Octaplus (nine toms), Ayotte, Ludwig and Gretsch. The Gretsch kit was the actual kit used to make Metallica's "Black" album--and that's enough for me folks! If you like to play or program drums using pads, all the kits are optimized for use with Roland's V-Drums.
Bass guitars sampled include Fender P-Bass Custom, Fender 5-string, Specter and Kubiki and MusicMan basses. All were recorded through an Ampeg SVT and an Ashdown rig and the software allows you to choose amplifier, or mix the sound from both amps. Guitars include Fender Telecaster and Stratocaster, Gibson Les Paul Standard and Deluxe, Ibanez Universe 7 and various PRS guitars, all recorded through Marshall, Fender, Bogner, Vox and Budda amplifiers.
I also liked all the different articulations and effects offered for both guitar and bass with most samples ranging over an octave. There are legato and staccato bass and guitar samples; playable rhythm guitars; and lead guitar sounds in both clean and distorted versions. For added realism, you get "round robin"--alternating hits of bass drums, snares, toms and hats. Finally a complete effects system with convolution reverb is available for adding the final polish to your recordings. Ministry of Rock sells for $495MSRP. More at www.soundsonline.com/
---
Web Page design is copyright © 2008 by Barry Rudolph