Elektromorph 2 Drum Library from MoReVox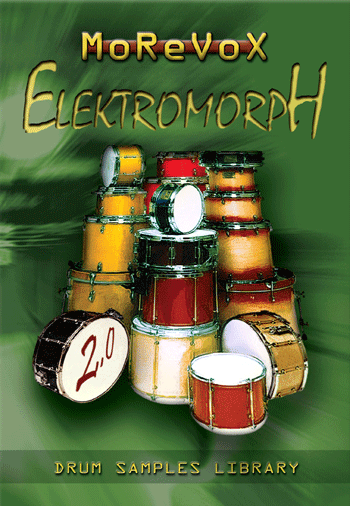 The new Elektromorph 2 library is from Sabino Cannone, the multi-platinum Italian sound engineer and founder of MoReVoX. It's the company behind the Cathedral set of impulse responses used in the excellent TL Space convolution reverb.
This library comes on a single DVD or via a huge download and is divided into the Massive Path Sounds and Creative Path Sounds sections for a total of 820 samples and 118 Instruments (24bit). Of special worth is that it comes with either PC or MAC installers and ready to play in programs like: Drumagog Drum Replacer, Drum Rehab, Battery 3 or raw .wav files that will play in any system.
I installed it into my Pro Tools HD 3 Accel rig specifically for the Drumagog library and found many kicks and snares that fit, without trouble, in my existing mixes. Unlike some sample collections, these are all recorded in stereo using different signal chains, rooms, effects and mics to broaden the range of sounds. There are deep and punchy digital sounds, woolly-sounding analogue-tape recorded sounds, very dry and dead room hits, compressed and explosive wide hits, natural kit sounds, and some of Sabino's own classic MoReVoX creative sounds.
With 30 kicks, 40 snares, 6 toms racks, 6 side sticks, 36 cymbals, Elektromorph 2 is highly recommended and sells for $209 and is available from: www.elektromorph.com and for more info about MoReVoX world visit: www.morevox.com.
---
Web Page design is copyright © 2008 by Barry Rudolph