eMedia Guitar Method Version 4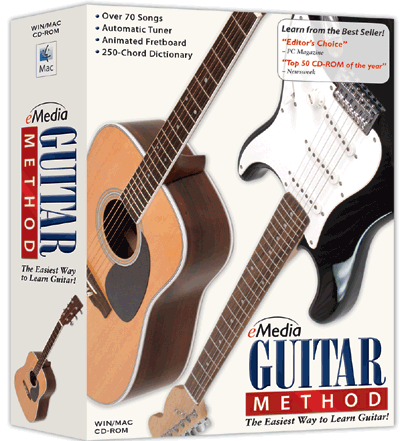 eMedia Music Corp. makes their best-selling guitar tutorial CD-ROM even better with version 4.0 of Guitar Method. You get a much improved GUI (that's graphical user interface), higher quality video and audio, and new fretboard "skins"--choices of different fretboards like those found on Rickenbacker, Fender Strat, Gretsch, '59 Les Paul and other guitars. There are now 160 large screen lessons and over 50 full-screen videos you're guided through by professor Kevin Garry, PH.D., University of Colorado at Boulder.
eMedia takes a lot of tedium out of learning guitar with easy step-by-step audio and video lessons because you are always playing actual songs and not boring exercises. And they are popular songs--you've heard of too. There are over 70 Pop songs from Rock to Folk to Classical to choose from. You get: Tom Waits' "Downtown Train" as made popular by Rod Stewart; both an acoustic and Rock version of Bob Dylan's "Knockin' On Heaven's Door"; "La Bamba"; Beethoven's "Ode To Joy" plus many more.
So besides learning songs and scales, fret positions and chords, you'll learn how to properly string your instrument, read guitar tablature and understanding notation. The eMedia Guitar Method Version 4 software includes a virtual digital metronome, chord dictionary, automatic tuner and even a digital recorder. You'll need a simple interface to connect your guitar to your computer but most new PC soundcards and the new MACs come with audio inputs and output connections.
Guitar Method Version 4 sells for $59.95 and runs on PCs under Windows 98/2000/NT/Me/XP/Vista and MACs OSX 10.1 and up. Much more information is at www.emediamusic.com
---
Web Page design is copyright © 2008 by Barry Rudolph