Fab Four from EastWest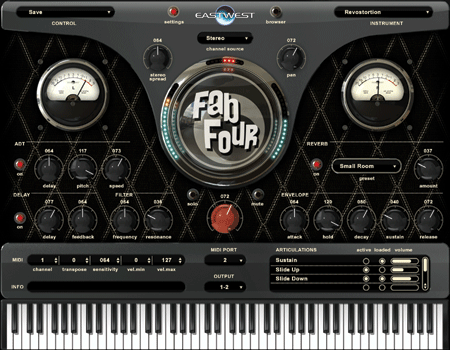 Fab Four Virtual Instrument from EastWest is a labor of love, over a year in the making and a time machine with timeless sounds. Fab Four distills into a fun-to-use virtual instrument, the sounds of the original instruments and (now) arcane recording equipment used, sonic treatments invented in the '60's, and the musician's aesthetic found in many of the Beatles' seminal records.
Fab Four producer Doug Rogers carefully researched and put together a fantastic team of equipment (much of it from collectors), Beatles engineer Ken Scott, guitarist Laurence Juber and drummer Denny Seiwell, both of whom were members of Paul McCartney and Wings, and went into famed EastWest Studio 1 in Hollywood, CA to meticulously recreate the sounds of the drums, keyboards, guitars, percussion, bass, and string instruments used in those records.
Authentic guitars, basses, drums, keyboards, amplifiers, vintage microphones, very rare EMI REDD tube and TG12345 consoles, EMI REDD47 preamps, and both tube tape recorders and outboard equipment were used in this production.
I installed Fab Four in my Pro Tools rig and instantly fell in love with all the sounds--all 13GB of them. Check out: "With A Little Help From My Bass", "Bass Tripper", "Because I'm A Harpsichord", "Madonna Piano", "Baby I'm Clavioline", "Strawberry Flutes", "We Can Work A Harmonium", "I'm A Blackbird Guitar", "Revostortion Guitar", and Swarmandel Forever."
The drums and bass sounds are evocative of Ringo and Paul and the keyboards work excellently in any record production pastiche--just like the Beatles used them. The instrument's GUI includes many studio effects you can add to any sound such as convolution reverbs, delays, compressors and the Beatle's often-used ADT (artificial double tracking) tape recorder effect.
As a collection of authentic Beatle sounds, Fab Four Virtual Instruments turns out to be an excellent record production and songwriting tool. It sells for $395 MSRP and runs in Windows under ASIO, DirectSound, VST, RTAS, plus AU, Core Audio, VST and RTAS on MACs. www.soundsonline.com/fabfour
---
Web Page design is copyright © 2008 by Barry Rudolph