The Fender Electric Guitar Book by Tony Bacon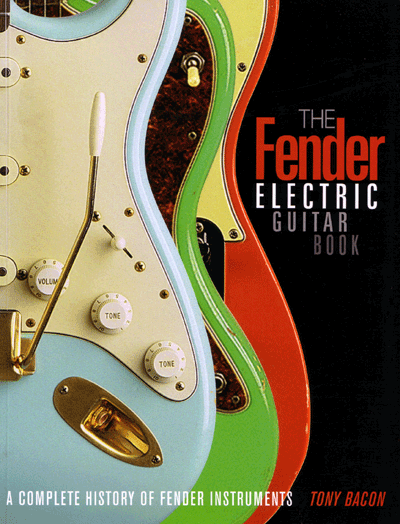 Now in its third edition, The Fender Electric Guitar Book by Tony Bacon continues its popularity with even more story telling of the over 60-year old history of the quintessential Rock instrument, the Fender guitar.
I liked the way the Fender story is told starting from early beginnings in 1945 with Leo Fender and Doc Kaufmann making lap guitars and small amps up through the infamous CBS purchase and then to the recent establishment of the Custom Shop for handcrafting rare guitars for major music stars. My interest never waned reading inside comments made by Fender employees and about all the yesteryear artists and bands that played Fender guitars. Seeing the many rare photos of Fenders in action on stage and in the studio in this coffee table style book, alone is worth the $22.95MSRP.
As a true reference book, there are now hundreds of full-color photos of examples of just about every guitar ever produced. The book also includes information on American, Japanese, Mexican and Korean-made instruments. There is also a page of 28 body shapes to go with the detailed chronology of guitars manufactured from 1950 to 2007. You also get expansive serial number information, plus neck, body and fretboard specs to help any one identify any guitar.
A must-have for any guitar player, The Fender Electric Guitar Book by Tony Bacon is available from BackBeat Books at 866-222-5232 or www.backbeatbooks.com




The Fender Electric Guitar Book: A Complete History of Fender Instruments
---
Web Page design is copyright © 2008 by Barry Rudolph