Bilila Footime® Page-Turner Footswitch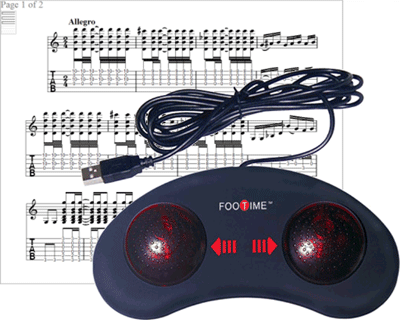 The Footime Page-Turner is an USB footswitch you can connect to any computer to control the turning of pages of music displayed on the screen. Designed to sit on the floor and operated with either foot, its set up and use could not be easier. Simply tap the right button to turn one page forwards or navigate downward on long pages not fully visible on your computer screen or tap the left button to flip one page back or navigate upward.
Page-Turner will navigate Web pages, PDFs, Word, Excel, and PowerPoint documents and is perfect for turning pages hands-free while playing or conducting from a digital score. Page-turner works directly with PhotoScore® and the new version of Finale. Notion's Progression and Protégé or Sibelius are also notation programs that will convert scores into .pdf format for working with Footime Page-Turner.
The Bilila Footime Page-Turner sells for $49.95 and for much more information, go to: www.bilila.com.
---
Web Page design is copyright © 2008 by Barry Rudolph