Steinberg Groove Agent 3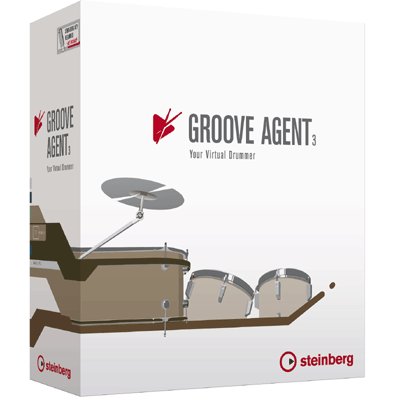 Steinberg Media Technologies Groove Agent 3 is now distributed though Yamaha Corporation of America. Groove Agent 3 is a VST drum kit that not only runs within any VST host on MACs or PCs but also runs in AU, DXi, Rewire hosts and standalone. There are two new "agents" in addition to the Classic Groove Agent called Special Agent and Percussion Agent. Together these three modules offer ultra-realistic modelling of a real studio drummer and a range of new percussive instruments.
Another new addition is Dual Mode where any two of the three modules can be combined for whole new sounding acoustic kits with an additional assortment of digital drum machines and percussion sounds. There are 42 all-new drum styles making 123 styles total plus hundreds of percussion performances that now will play in more unusual time signatures.
The new Drum Sample Import feature allows Groove Agent 3 to utilize almost any drum sound file format to make up its grooves, beats and fills. Alternating Hits avoids repetition of sounds--for much more realistic drum rolls and paradiddles. For non-drummers there is Auto Fill that (somehow) generates fills that fit and help produce dynamic drum backing tracks. Groove Agent 3 is a great drummer for improvisation, rehearsal or just jamming along with.
Finally there is a whole new effects section with a better EQ and compressor that includes carefully programmed presets ready for each drum component and kit. Groove Agent 3 sells for $299MSRP. Groove Agent 1 and 2 customers can upgrade to the new version for $124 and $89 respectively. For more information, please visit www.steinberg.net.
---
Web Page design is copyright © 2008 by Barry Rudolph