SampleTron From IK Multimedia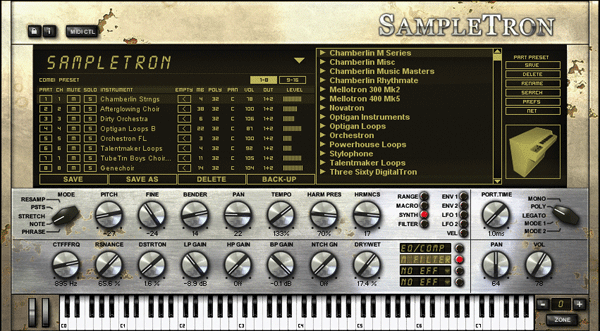 SampleTron is a playable archive of the quirkiest vintage instruments ever foisted on the public. The gigantic library of (2GB) extremely rare "Tron" instruments is a delight to play and hear. Having worked with the original instruments, I can tell you that only the upside is here without all the bad--the awful reliability, tuning issues, worn out tapes and intermittent sound. Done in cooperation with Sonic Reality, SampleTron is a sample collection of perfectly operating examples of the precursors of today's samplers that used tapes or optical discs to play back sounds via a keyboard.
Using the SampleTank platform, GUI and it's access to 32 built-in effects, the 640 presets and 260 multi-samples are from 17 rare and vintage Mellotrons®, Chamberlins™, and others like the Optigan™, and Rhythmaster™. I especially like the Mellotrons and Chamberlins--instruments originally used by The Beatles, Moody Blues, Genesis, and Yes and today by younger artists such as Kanye West, Radiohead, Smashing Pumpkins and Beck.
SampleTron has fully sampled and mapped out: the Mellotron® M400, MK5, MKII and Powerhouse (8 Track Rhythm Machine) instruments; the Novatron®; the super arcane Vako Orchestron®; the Mattel Optigan™; the totally obscure Talentmaker™; the American-made Chamberlin™ Music Master 600, 400, 200, M1, M4, Rhythmate™ instruments that predate the English-made Mellotrons; 360 Systems® "Digital Tron"; Roland® VP-330 (Choir); and the pocket-sized toy Stylophone®.
SampleTron works standalone or as a plug-in in Mac OS X (Universal Binary), and Windows (XP/Vista). It sells for $329.99. For more information, please visit: www.sampletron.com
---
Web Page design is copyright © 2008 by Barry Rudolph