Line 6 Micro Spider Guitar Amp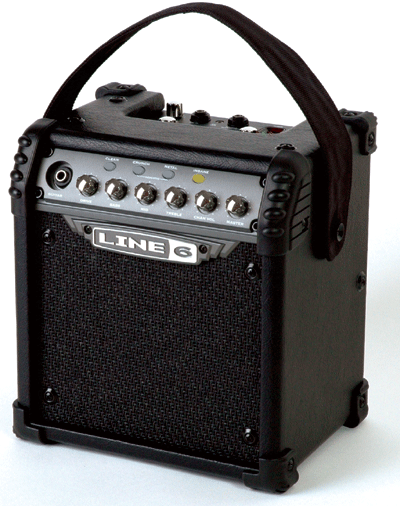 The Micro Spider is a 6-watt guitar amp with 6.5-inch speaker that runs on six C-cell batteries or an included power adapter. At about 1 watt per pound of weight, this irresistible jewel of a amp is a dream come true for the traveling guitarist or anyone who would like to always have a handy and good-sounding amp available when the mood strikes.
There are four Spider III amp models with clearly evocative names: Clean, Crunch, Metal and Insane plus a new acoustic guitar model for playing your suitably equipped acoustic. You also get reverb, chorus, tap delay, sweep echo, tremolo, flanger, phaser effects and a chromatic tuner.
I like that you have all the usual suspects when it comes to front panel control such as Drive, Bass, Treble, Mid, Treble, Channel Vol and even a Master volume! It's a Micro Spider but not short-changed in the tone dept.
Other features packed into the mighty 10-inch tall Micro are: a headphone/POD® direct recording jack, a microphone input with level/mix control and a mini jack for plugging in and jamming with your iPod.
Micro Spider sells for $199.99 MSRP. There is so much more about it at www.line6.com
---
Web Page design is copyright © 2008 by Barry Rudolph