Synthesia Mandala™ 2.0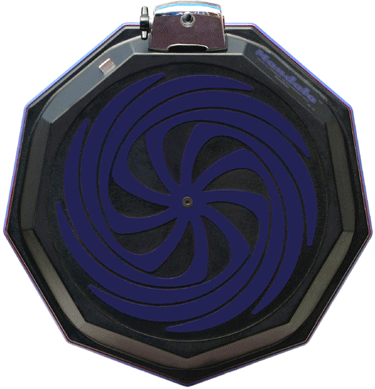 Co-developed with drummer Danny Carey of the band Tool, Mandala is an electronic drum pad that connects to your computer with a USB cable. Add a USB hub and connect up to seven of these for a complete electronic kit. The requisite "brain" is the Mandala Virtual Brain software that runs in either MACs or PCs and works with Apple GarageBand, Ableton Live, and Native Instruments' Battery, Reaktor or standalone for immediate playing. It comes with 4GB of sound samples that run the gamut of industrial hits to solid Rock sounds to spacey atmospheric sounds.
There are over a 100 preset drum setups from conventional kits to odd collections of bizarre noises. Since each pad can have up to seven "zones" with each zone independently programmable--you can change parameters like pitch, panning, filtering, and volume predicated upon the exact location and velocity you hit the pad. You can have a snare, kick drum, cymbal--or any other instrument all on the same pad and all at the same time. The drum pad detects the exact location and strength of every point of contact across the entire pad using 128 concentric rings from the center to the edge. Clever!
The Mandala 2.0 retails for $349, and is available at: www.mandaladrum.com
---
Web Page design is copyright © 2008 by Barry Rudolph