Maxon 9 Series Stomp Boxes from Godlyke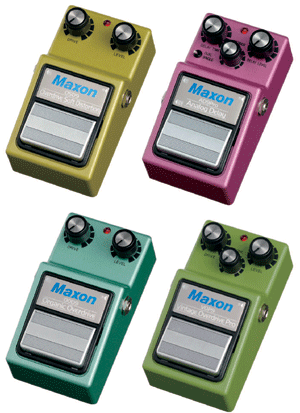 Godlyke has four new 9 Series models from Maxon. For stomp pedal connoisseurs, the Maxon Nines have garnered much praise do to their consistently great and unique sound, rugged construction and careful electronic design.
All the new pedals have improved circuitry, true bypass switching, and easy-access, (no tools required) battery compartments. As before, all the pedals have a die cast zinc chassis, protected controls, rubber bottom pads, AC/DC operation (9-volt battery or AC adapter), voltage regulator, LED status/battery life indicator, and 3-year warranty.
The new AD-9 Pro Analog Delay ($375) has 450ms of delay and unique filtering for rich, clear analog tone without noise. You can get multi-tap delays or "ping-pong" delay with the flip of a switch. The OOD-9 Organic Overdrive ($260) is a natural overdrive that adds bite and width. It uses the JRC4558 IC chip for added mid range boost.
For evaluation, I received the OSD-9 Overdrive Soft Distortion ($260) a reissue of the ultra-rare, original "pre-Ibanez" Maxon OD-880. The OSD-9 uses the 741 chip known for its exceptional dynamic response and tube-like tone. We like it especially for adding just enough "hair" on top another effect such as delay. I also got the VOP-9 Vintage Overdrive Pro ($275) with its clean boost feature and internal voltage doubler switchable from 9 to 18 volts. This allows for better note dynamics and increased low-end response. This is a fat-sounding pedal excellent for sustaining lead lines and thickening thin guitar tones before the amp.
For much more information on Maxon 9 Series Effects or other Maxon products, contact Godlyke, Inc. at 973-777-7477 or visit www.maxonfx.com.
---
Web Page design is copyright © 2008 by Barry Rudolph