Mojave Audio MA-201 FET Condenser Microphone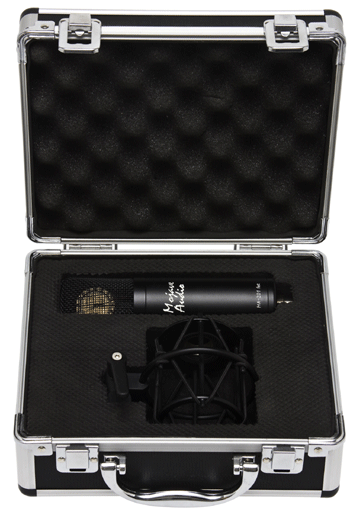 The MA-201 FET is a large diaphragm, phantom-powered, solid-state condenser microphone with a fixed cardioid pattern and FET (field effect transistor) head amplifier. The number of FET condenser microphones in existence can be counted on one hand--and it is great to see Mojave taking the extra care needed to design and manufacturer this great sounding mic.
With no way to "cut corners" building a good-sounding FET condenser (like the famed and long out of print Neumann U-47 FET), the MA-201 uses a three micron gold-sputtered capsule, a high-quality Jensen output transformer, and a military-grade FET surrounded with custom designed low-noise resistors. It comes with its own protective case and shock mount.
I received two 201's and they immediate went to work recording, in stereo, a Martin D-28 acoustic guitar. Although I usually prefer small diaphragm condensers for this, I was pleasantly surprised by the forward sound of these mics placed as a spaced pair. Just as when recording vocals, I found the 201 FET to deliver a warm yet crisp sound without overloading or producing sibilance. These mics are all-around studio workhorses that sound great on anything including drums.
Some other information: 20 Hz-20kHz, + 3dB response; 125 MAX SPL; 16dB (A weighted) self noise; -39dB ref 1v/PA. The mic comes in a carrying case with shock mount and sells for $695 MSRP. For more about it, call 818-847-0222 or go to: www.mojaveaudio.com
---
Web Page design is copyright © 2008 by Barry Rudolph