Moog Guitar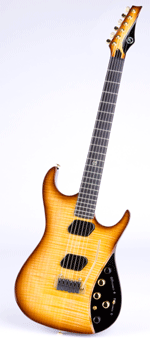 It's not a guitar synthesizer, not a MIDI guitar, and not an effects processor. It's a top-grade electric guitar fitted with patented Moog electronics with an AAAAA maple top, mahogany body and ebony fingerboard.
The Moog Guitar plays in three modes: sustain, mute and controlled sustain. Sustain mode causes infinite, powerful sustain on every string and at every fret position. Mute damps the string's energy for staccato playing while Controlled Sustain allows the musician to play sustained, single-note or polyphonic lines with sustain. In this mode, the Moog Guitar sustains the notes being played while actively muting the notes not being played.
There is way more about this totally new instrument than I can talk about here, so check the video at: www.moogmusic.com.
---
Web Page design is copyright © 2008 by Barry Rudolph