Neutrik convertCON Unisex XLR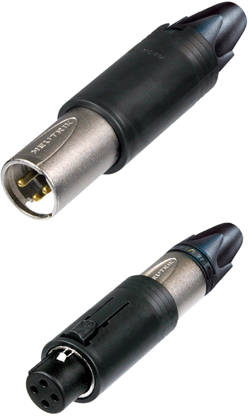 It's amazing that a unisex XLR connector has not been invented before the year 2008 and, as far as I know, Neutrik's convertCON XLR is the first. The convertCON NC3FM-C is a 3-pin male and female cable connector in a single housing. It is also available with black chrome housing and gold contacts as the NC3FM-C-B.
The usefulness of this product is painfully obvious to anyone who has ever untangled and ran a long mic cable on a live stage or studio only to find the wrong connector at the end. By simply sliding the housing back and forth, convertCON transforms from a male to a female connector. It can mate with either a conventional (and other manufacturer's) male or female 3-pin XLR.
Besides sharing some of the features of Neutrik's best-selling XLR XX series, convertCON also features an improved chuck type strain relief that's stronger and more pull-resistant than most cables. Attaching a convertCON connector is not more difficult than any other Neutrik XLR--actually it's easier since everything is a little larger to accommodate the sliding mechanism.
convertCON connectors sell for $17 MSRP each and for much more, check:
www.neutrik.com/fl/en/audio/210_1308540239/NC3FM-C_detail.aspx.
---
Web Page design is copyright © 2008 by Barry Rudolph