N-Tune Onboard Chromatic Tuner Kit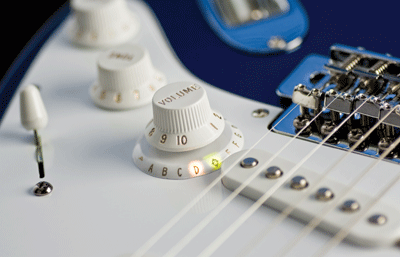 From Zero-Crossing comes N-Tune, a chromatic tuner kit that's built-into your guitar. The benefits are obvious: no more carrying and connecting an outboard tuner and instant, no hassle "spot checks" of your tuning at any time, even on stage during a performance, will make it easier to stay always in tune.
N-Tune comes as a complete kit with good instructions and installs in about 40-minutes using a few small tools and a soldering iron. N-Tune is available as a Fender®-style kit, a 250kohm kit for guitars with single-coil pickups and a 500kohm kit for guitars with humbucking pickups called the Gibson®-style kit. Installation requires no modification, is completely reversible and matches any guitar's styling and color scheme.
We installed the Fender kit into a custom Warmoth Strat with great results. A nine-volt battery hidden within the guitar's body powers N-Tune. The battery should last a long time because the tuner only runs when you pull up on the volume knob. At that moment the guitar's sound is muted using a true bypass design without pops or clicks. At the same time a colorful LED light show starts up in a plastic note collar underneath the stock volume knob. (Several different colors of this note collar are provided to match your instrument's knobs perfectly.)
Once the tuner is activated, it will indicate on the note collar whatever string/note you've plucked-- E, B, G, D, A, E. The sophisticated tuner electronics blinks faster and faster as you approach intonation and there are additional bright LED indicators on the collar for sharp, flat (red) and "spot on" (green) tuning.
Priced at $100 MSRP, we found N-Tune easy to install and works excellently--a godsend with the only gripe being that the E, B, G, D, A, E indicators should be ordered on the note collar not alphabetically but as they are on a standard-tuned guitar. Visit www.n-tune.com.
---
Web Page design is copyright © 2008 by Barry Rudolph