Pinnacle PCTV HD Ultimate Stick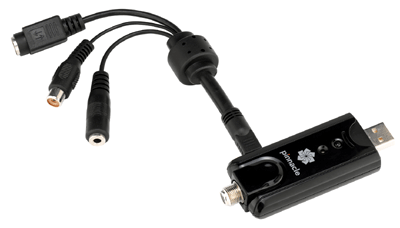 The PCTV HD Ultimate Stick is Pinnacle Systems' portable USB 2.0 digital and analog television receiver for watching and recording free-over-the-air TV shows on your computer. It comes with a telescoping whip antenna, cables to connect and record from a video camera, a super-small remote controller (for changing channels, volume etc. and controlling the recorder) and software to allow you to enjoy high definition television programs anywhere you can get a broadcast signal.
PCTV will automatically configure itself to use the antenna or cable and allows you to watch both analog channels (while they are here until 2009) and full 1080p digital channels. Perfect for laptop users who don't want to miss an important game, you can schedule, record and playback shows easily using the included Electronic Program Guide and Elgato EyeTV® Lite TV viewing and recording software.
I couldn't wait when this one arrived! I installed the software into my Pro Tools HD computer and using just the whip antenna at head height, the auto scan feature found 60+ digital channels all with glorious clarity. I also found that I could continue working in Pro Tools while my favorite shows played on my second video monitor--I'll never get any work done now!!! If I had a laptop, PCTV would make total sense as a second and portable TV since the unit, remote and antenna are small enough to fit into any laptop carrying case.
I definite "must have" especially now with digital TV soon to be the only TV available in over-the-air broadcast, Pinnacle's PCTV HD Ultimate Stick is a winner at $129.95. Much more info at: www.pinnaclesys.com.
---
Web Page design is copyright © 2008 by Barry Rudolph