X-Tempo Designs pok DAW Foot Controller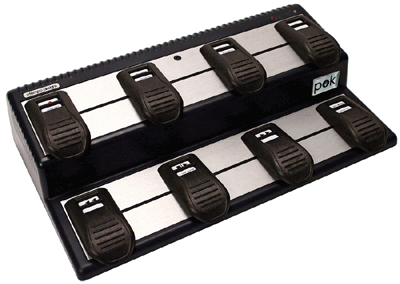 pok is a DAW foot controller that uses wireless USB technology on the 2.4Ghz radio frequency band for hands-free control over your workstation. It makes use of the built-in keyboard shortcut keys that are part of every DAW's software program. pok has eight footswitches and comes with a Pro Tools set of quick keys as default but the pedal button functions are mappable via the included pok editing software. It's easy to add, remove or reassign any button to any user preference. Each button can store up to three commands with button eight acting a shift/function key. Up to 22 commands per pok "profile" or configuration are possible.
Running on three AA batteries for months of operation, pok requires no driver installation and supports MAC or PCs running Digital Performer, Logic, Cubase, GarageBand and Ableton Live. pok can be used anywhere in the vicinity of your studio's DAW within 80 feet--like out in the studio so you can record yourself without taking your hands off your guitar or on stage as a way to run your rig while DJing at a live gig. It transmits your commands to a small USB dongle receiver plugged into your computer. Since each pairing of a pok pedal and the receiver dongle creates a new radio link, two or more poks will operate in the same studio on different computers or you can use more than one pok to control the same DAW.
The unit sets up in a second and as a test, I was able to control my Pro Tools rig from two houses away down my street. I found the buttons were easy to tap on and worked reliably every time without any additional delay. The default Pro Tools functions are all I would ever need to do with my feet. pok is a winner with everyone that comes to my Tones4$ Studios!
pok's case and buttons are made of tough ABS plastic with a clear anodized aluminum or stainless steel faceplate and steel base plate. The switches are made by Alps and it comes with a set of removable adhesive labels to name each footswitch. pok comes in a graphite or moon rock finish and sells for $429MSRP complete with carrying case or $399MSRP without case. For more information, go to: www.x-tempozone.com.
---
Web Page design is copyright © 2008 by Barry Rudolph