Notion Music Progression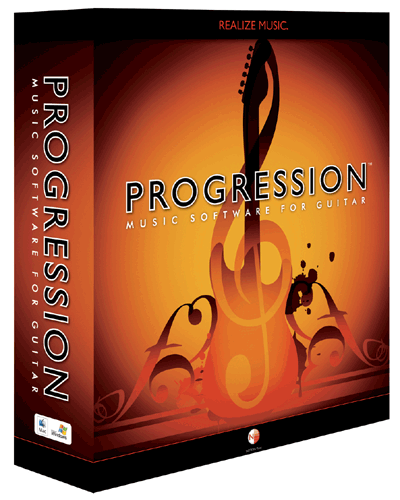 Progression is a wonderful new music/songwriting adjunct--it's tablature and playback software for guitar players. It makes the process of lead sheet writing more efficient, accurate and fun. Essentially you "play" your music into your computer using either a MIDI guitar, conventional keyboard controller or the on-screen virtual fretboard. Then the program displays it in tab or notation and plays it back using on-board samples. There is no need to record any musical instruments because Progression comes with thousands of carefully made samples of electric and acoustic guitars, basses, pianos, other keyboards plus drums.
Once you've entered your music composition, you can edit guitar fingerings and instantly hear and see the changes on screen. There is a library of chord voicings, bends, slides, hammer-ons, pull-offs and other difficult effects (you may not be too good at) ready to be "plugged in" anywhere you like. Songs, ideas, solos and parts can be shared with band members by creating guitar tabs, lead sheets, and standard sheet music or by simply exporting an audio file of a completed backing track. Changing key, tempo (there is tap tempo), instruments, chord progressions and more is as simple as mousing and clicking.
Progression comes with a built-in mixer and loads of guitar-oriented effects and amp models like Blues Maker and ACM 900--English-looking amp models. You can use all of these to fully produce your music in any style you like. Progression runs on MACs or PCs and is a VST host enabling the use of your own favorite effect plug-ins and amp modelers as well.
Other features are: real-time dynamic linking between tab and notation staves; tab and notation for additional stringed instruments like banjo and mandolin, and alternate tunings; MIDI file import and export; .wav file export.
Progression sells for $149. For ordering information, audio and video examples, please visit www.notionmusic.com.
---
Web Page design is copyright © 2008 by Barry Rudolph