Propellerheads Reason 4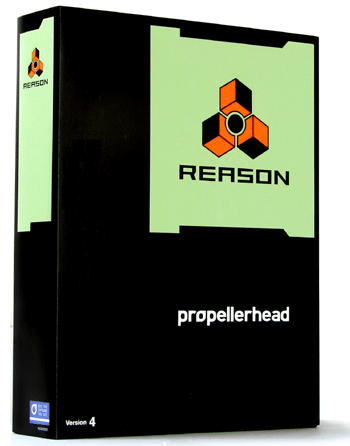 Read About The Latest Propellerheads Reason/Record Bundle!


Those Swedish Propellerheads just make Reason better with every release and now version 4 has Thor, a great sounding synthesizer; the ReGroove mixer, a very intuitively designed rhythmical feel editor; and RPG-8 arpeggiator with a completely rebuilt sequencer.
Thor is all new but relies on the history of music synthesis to provide nearly infinite sonic choices. Thor has six different oscillators with four different filter modules plus wave shaping, enveloping and effects. Loads of modulation routings enable users to exchange audio and control signals just like when using patch cables on old hardware analog synths.
The ReGroove mixer lets you apply varying amounts of swing, shuffle and groove to tracks in real-time. 32 "groove channels" can be assigned to sequencer lanes, providing individual settings for groove strength, timing shift, velocity, duration and other parameters nondestructively. Reason ships with a large selection and variety of grooves-extracted from live recordings, famous beat boxes and even vinyl funk gems of the 70s.
Reason's sequencer maintains Reason's simple streamlined workflow and adds many new updates. Global editing uses "clips" to assign notes and controller events to different "lanes." Users can manage tempo and time signature changes through a transport track. Add the RPG-8 monophonic arpeggiator device for endless creative possibilities for each of Reason's built-in sound sources.
Reason is now fully localized into English, French, German and Japanese, including all menus, interface items, help files and documentation. A floating tools window lets users access devices, editing commands and groove controls without having to invoke menus or dialog boxes. The Factory Sound Bank has fatten up and includes over 200 "signature" Thor patches from well-known artists and sound designers. The Combinator and NN-XT devices are also updated with enhancements especially useful for sound designers and live musicians.
Reason version 4 sells for $499MSRP. For more, www.propellerheads.se/reason
---
Web Page design is copyright © 2008 by Barry Rudolph