SABIAN Appice Ride Cymbal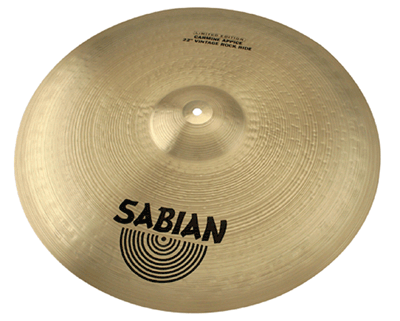 Only 200 of the 22-inch Limited Edition Carmine Appice Vintage Ride cymbal will be made. The SABIAN Vault Team, in collaboration with legendary rock drummer Carmine Appice, developed this medium-heavy, low profile model with a vintage-style bell. Besides numerous credits with the Vanilla Fudge, Cactus, Jeff Beck, Rod Stewart, Ozzy Osbourne and Blue Murder, Appice is the author of the No. 1 best-selling drum-set study book, "Realistic Rock."
This Vintage Rock Ride is said to have a clean stick sound, but an overall nice response with dark and very rich tone. Appice likes "darker sounding cymbals that add power by becoming part of the music, rather than simply cutting through it." Hand Hammered from SABIAN's B20 bronze, the Limited Edition Carmine Appice Vintage Ride has a traditional-sized bell the same size as the popular Raw Bell Dry Ride. It is hammered and fully lathed with traditional wide-blade lathing. This model is available exclusively in Natural Finish and sells for $875MSRP. For more information, contact www.SABIAN.com.
---
Web Page design is copyright © 2008 by Barry Rudolph