Seagate FreeAgent™ Go Hard Drives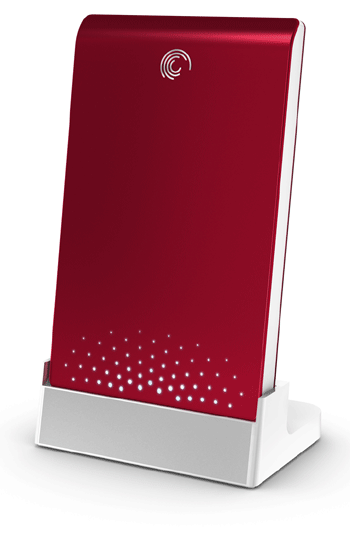 The new line of hard drives from Seagate have tremendous utility that render all excuses for not backing up your important computer files null and void. If you want portability and travel a lot with your work and other important files, go with the FreeAgent Go portable storage drives.
These 5400rpm drives come in four different case colors, red, blue, silver and black you could use to organize storage into pictures, audio files, financial or videos. The black and silver drives come in 250, 320 and 500GB sizes and all are USB 2.0 and compatible with both Windows and Mac computers. They all come with a leatherette carrying case and the proper USB cable for connection to any computer. For back at home, buy the optional dock that sits on your desk and allows you to insert the entire drive into it without fishing around for a USB cable. (Sweet!)
FreeAgent Go drives are also made specifically for Macs with Time Machine™ readiness and include a dock and carrying case. As a note, I reformatted the PC version for Mac with no problems. There are three different interface connections possible: USB 2.0, Firewire 400 and FW 800. The PC version drives are silver-colored and have the same great stylish look as the others. The dock and carrying case for the PC versions are sold separately for $29.95.
I use my FreeAgent Go drive to hold my current ongoing Pro Tools session files along with all the digital audio. Their small size makes them good traveling drives to move sessions from studio to studio. My clients marvel at the backlit case that slowly pulsates with white light. I like the traveling case with its elastic band to hold a small USB cable I'll need whlle away from my studio where the dock is located. It all cannot be any easier that this
All the FreeAgent Go drives come with a five-year limited warranty and for much more information, go to: freeagent.seagate.com/en-us/hard-drive/Free-Agent.html
---
Web Page design is copyright © 2008 by Barry Rudolph