FreeAgent Pro from Seagate Technology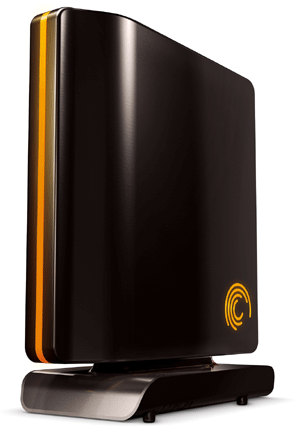 As its name implies, Seagate's FreeAgent Pro hard drives are for people who are serious about their digital content--they make a living using computers and expect a high level of confidence in the safe and secure storage their data.
I received a 1TB FreeAgent Pro drive for evaluation and my first test out of the box was copying 600MB of sample library files for the virtual instruments running in my Pro Tools rig such as BFD2 and EastWest's Fab Four program. This process of copying DVD-ROMS (about 50) took about eight hours and FreeAgent was up to the task running continuously the whole time.
The FreeAgent Pro 7200RPM drives come with two modules for interfacing it using USB 2.0, dual Firewire 400 or the new eSATA standard which is capable of up to 3Gb/sec transfer rates. Sitting on my desktop, the styling of this expresso brown-cased drive makes it look like a prop from a Sci-Fi movie--imagine a slim monolith surrounded with glowing, orange-lighted perimeter banding--my clients ask if it's radioactive! Preloaded on the drive is the FreeAgent Pro software for setting up automated backup of your data to multiple locations.
Certainly one of the best way to deal with the ever increasing amounts of data we accumulate storing video, audio, hi-res pictures and office files, the Seagate FreeAgent Pro come in sizes up to 1TB and also include cables, AC power supply, quick start guide and five-year warranty. Visit: www.seagate.comor call 800.SEAGATE
---
Web Page design is copyright © 2008 by Barry Rudolph