SM Pro Audio iNano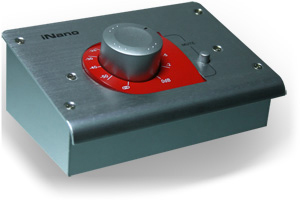 The iNano is a passive volume control for computer soundcards, CD players, pre-amps and mixers. Being passive means iNano allows precise level adjustment for any analog audio source material without active circuitry, buffers, transistors, batteries, or pesky wall-wart power supplies--iNano is just the ticket for totally portable laptop recording rigs. Featuring both balanced combo XLR/TRS and 3.5mm input jacks plus 1/4-inch TRS and 3.5mm outputs, a mute switch, and a good-sized rotary volume encoder, the iNano allows audio signals to be attenuated and/or mixed together transparently and without coloration.
The iNano connects between your computer audio interface/soundcard master outputs and a pair of active (powered) monitor speakers. Now you don't have to control volumes with your software's master volume fader, which can reduce the audio bit depth. You'll be maintaining maximum audio resolution and be able to attenuate your monitoring volume to whatever level you prefer.
The iNano sells for $69MSRP. Check SM Pro Audio at: www.smproaudio.com or www.kaysound.com.
---
Web Page design is copyright © 2008 by Barry Rudolph