Solid Cables Dynamic Arc Ultra Guitar Cables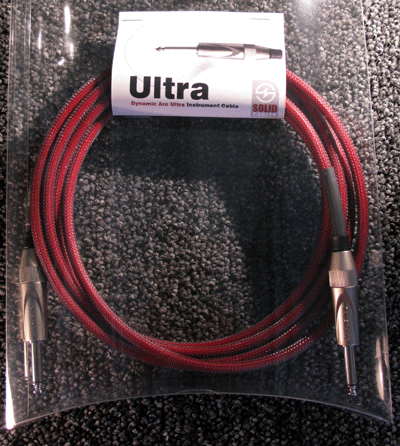 It takes conforming to NASA-level of mission-critical space shuttle construction and quality control to produce a guitar cable that not only sounds great but also survives over years of gigs. Solid Cables contends that their "cable carries more signal, and at a higher quality, with more durability than what's inside of a spacecraft." It can literally pull an object weighing six to ten thousand pounds without breaking.
Like a lot of new products, it was borne out of necessity when the founder/guitarist of Solid lost faith in a so-called "high-end" cable when it shorted out and fell apart in the middle of an important overseas gig. Solid Cables has polled numerous musicians, heard all the stories about disintegrating and expensive cables with lifetime warranties, and set out to reinvent the guitar/instrument cable.
They use an advanced and careful design; the best componentry and quality cable money can buy to produce Solid Cables' Dynamic Arc Ultra Guitar Cable series--that'll "make any guitar and amp sound better". It comes with a lifetime warranty.
Hand-built in the U.S. with all metal connectors, the cables can be found both online and in retail stores in the United States, England, Italy, Australia and Japan. For more information visit www.solidcables.com.
---
Web Page design is copyright © 2008 by Barry Rudolph