Sonnox Dynamics Plug-In

Read Barry's Mix Magazine Feature Article On Compression and Compressors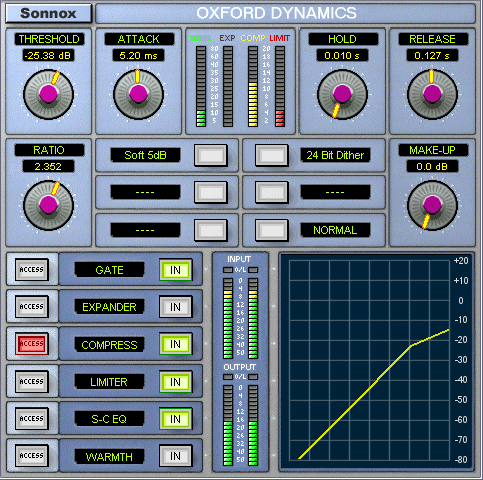 The Sonnox Dynamics plug-in is modeled on the dynamics unit used in Sony's OXF-R3 professional mixing console. This plug-in is a "one stop" dynamic processor that includes separate: compressor, limiter, expander, gate, two-band side chain EQ functions, and a warmth processor (A kind of variable harmonic loudness enhancement) with full independent control of all parameters. The compressor, expander, limiter and gate each have selectable time constant curves and both soft and hard knee compression choices.
Sonnox Dynamics is a modern processor that uses feed-forward architecture with look-ahead technology and logarithmic side chain processing. With this and all the myriad ways to set the numerous parameters, it's easy to get any compressor/limiter sound from pristine and transparent all the way to over the top compression--vibey trickery with loads of personality.
I installed Dynamics in my Pro Tools rig and it immediately saw action on vocal tracks. I liked that I could use massive compression--up to about 10dB of gain reduction on peaks and still retain most of the life of the singer's sound. The GUI allows you to 'access' and switch in/out each of the six processors individually. When you change from the compressor to the limiter, the entire GUI toggles to the controls for just the limiter--cool! Furthermore there are separate meters for the compressor, limiter, gate, and expander actions plus both a stereo input and output meter--you know what's going on at all times.
I liked the limiter to keep a lid on my drum tracks without sounding squashed like when using most compressors. The gate is very adjustable and stable and the side chaining allows for making any gate setting more sensitive to the wanted signal and less sensitive to the noise surrounding it. The warmth processor works especially well for boosting vocal tracks to sound more immediate.
Available for Pro Tools HD and LE and Native RTAS, VST, AU and also for TC PowerCore systems, the Sonnox Dynamics plug-in is all you'll ever need for a compressor, limiter, gate and expander. Visit www.sonnoxplugins.com for TDM, Native & TC PowerCore platform and bundle prices.
---
Web Page design is copyright © 2008 by Barry Rudolph