Sonnox Oxford SuprEsser Plug-in

Read Barry's Mix Magazine Feature Article On Compression and Compressors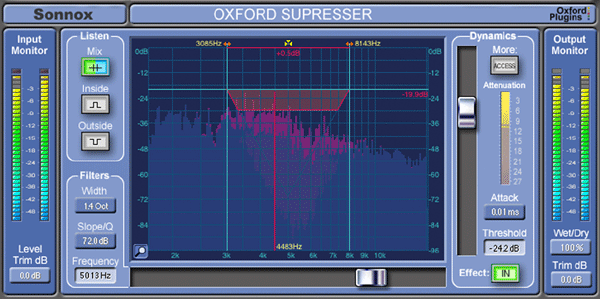 Sonnox's newest plug-in is a De-Esser and Dynamic EQ. It automatically uses (depending on the desired operation mode) up to four different EQ and compressor modes all derived from Sonnox's Dynamics and Equalizer plug-ins. SuprEsser, due to it's internal complexity requiring 32-bit floating-point math, is a Native plug-in only and comes in VST, RTAS and AU versions for both PCs and MACs.
I loaded SuprEsser into my Pro Tools HD3 Accel rig and immediately used it on a difficult vocal track with two major problems: extreme sibilance and an occasional "p" pop from working close to the mic. After reading the excellent manual, I found it the most transparent de-esser/de-popper I've ever used--it does not make the vocal sound processed--only the culprits are removed. There is a basic mode for quick fixes but the advanced mode allows for very precise removal with no change to the surrounding audio. As a de-esser, SuprEsser's display quickly locates the offending frequencies and lets you dial in and reduce to a natural level any "s" sound or other fricatives common to vocals in music productions--especially after heavy and bright equalization and hyper compression.
Since the SuprEsser can operate at all frequencies, low frequency 'plosives' or "p" pops, instrument spirants and other annoyances can be removed with little or no loss of the desired low frequency content. Unlike most dynamic processors, SuprEsser has Automatic Level Tracking to maintain a constant amount of reduction no matter the level--setting it for soft verse vocals will not cause loudly sung choruses to be overdone. A Wet/Dry blend controls final balancing for standard full bandwidth compressor use and there is a second advanced layer for microscopic tweaks professional recording engineers demand.
Sonnox Oxford SuprEsser sells for $355 MSRP, with a 10% introductory discount if purchased before June 30th 2008. Visit www.sonnoxplugins.com.
---
Web Page design is copyright © 2008 by Barry Rudolph