SPL Ranger EQ Series Plug-Ins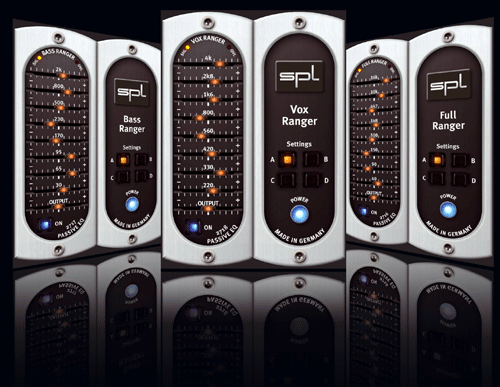 The three equalizers in the EQ Ranger Series are Analog Code™ plug-ins based on the EQ modules in the SPL RackPack hardware units. The SPL RackPack EQs are passive LC (coils and capacitors) graphic filters with fixed Q that produce smooth and notably instant results. Each one of the Ranger EQ is designed to cover the important frequencies of: bass instruments with the Bass Ranger, vocals with the Vox Ranger, or any full range instrument such as drums or pianos using the Full Ranger. Each frequency band's Q and max boost/cut (between +/- 12 and 15dB) is tailored to suit the application--this is just like the hardware units and one of the many reasons for their great sound.
The Bass Ranger EQ has: 30, 65, 95, 170, 230, 500, 800, and 2kHz frequency points. The Vox Ranger EQ has: 220, 330, 420, 560, 800, 1.6k, 2.8k and 4kHz points plus a built-in lo-cut, 55 Hz filter. The Full Ranger model has 40, 90, 150, 500, 1.8k, 4.7k, 10k, and 16kHz frequency points. All three also have an additional slider for adjusting output gain.
It is unique for equalizers that focus on the frequencies required for specific tasks. With most equalizers there is always a certain frequency area not covered or the sound of a "jack of all trades and master of none" EQ might cover your needs but sounds bad.
I used the Bass Ranger plug-in on a bass guitar track and was able to zero exactly into an area missing in the recording--I brought the bass up without lifting the overall master level too much. Likewise the Vox Ranger allows for much more precision to dial in vocal sounds. I found it perfect as a second equalizer after the compressor in my usual vocal change. With Vocal Ranger I could bring down the low midrange the compressor enhanced while lifting the squashed upper midrange. Marvelous!!!
The Ranger EQ plug-in comes with all three modules and sells for $335 MSRP and is available in RTAS, VST and AU versions. TDM versions are soon to follow. Check www.soundperformancelab.com.
---
Web Page design is copyright © 2008 by Barry Rudolph