TC Electronic Nova System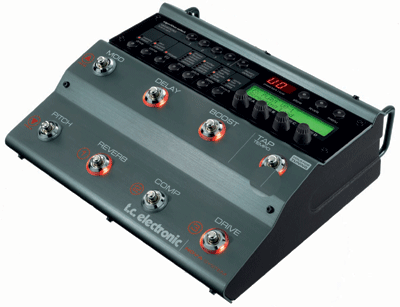 TC Electronic's Nova System is an analog guitar effects stomp pedal that uses modern digital control and programmability. The best possible of both worlds, the Nova System uses NDTTM or Nova Drive Technology, an innovative drive and distortion circuit that is true analog circuitry but controllable--tweaked, stored and recalled digitally--like any digital effects unit.
Nova System has six high quality effects blocks from TC's G-System. Compression, EQ, Noise Gate, Modulation, Pitch, Delay and Reverb effects are all programmable and storable in 60 user presets with an additional 30 factory presets consisting of useful effects combinations ready to go.
Real-sounding tube overdrive is impossible to do digitally but the Nova System overdrive emulates the classic overdrive only found in tube amps. The range goes from slightly warm and subtle overdrive to high gain for Screamo leads. Somehow excellent chord clarity even with complex voicing is retained. The unit's distortion is described as fat and aggressive for full, massive chords and fluent compressed leads. Nova has both high impedance and balanced inputs plus balanced stereo outputs, and two footswitch jacks for preset changing and for an expression pedal. You can control distortion with the pedal along with other parameters and you can add a G-Switch for further control.
A complete analog guitar rig in moderately sized pedal, the Nova System sells for $995 MSRP. For much more information, go to: www.tcelectronic.com.
---
Web Page design is copyright © 2008 by Barry Rudolph