URS Saturation Plug-in 2.0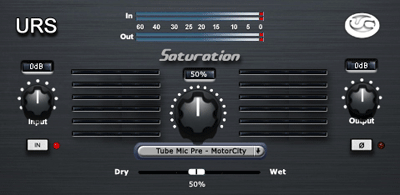 Starting with software for RTAS, AU and VST formats on Mac OSX (PC support and TDM coming soon), the new Unique Recording Software or URS Saturation plug-in is the most comprehensive collection of amplifier models ready to exhibit every conceivable mode and sound of being overdriven or saturated. Saturation 2.0 has nine vintage analog algorithms with 158 presets. The six vintage mic pre-amp algorithms cover the sound of "British", "German" and American tube in both Class-A and FET transistorized units. The presets have variations of transformer core saturation and mono analog 15/30-i.p.s. tape recorder overloading.
URS even has thought to include soft clipping--a common occurrence in old recordings made by even the best engineers when singers and musicians pushed a little harder and gently overloaded the mics and tape decks.
I installed URS Saturation 2.0 in my Pro Tools rig and it is head and shoulders better than any of my other "analog" or saturation plug-ins. It wins by virtual of its complete adjustability and vast collection of sonic treatments. Distortion is a newfound friend in my mixing suite. I like the Input Control to adjust the level into the drive amp; the ability to control the type (odd and even) and the amount of desired harmonics, saturation and soft clipping; and finally the blend control to mix the straight signal with the grunge.
Saturation 2.0 use 64-bit floating point processing and there is a cool plasma meter to show the increase in apparent loudness even though the VU meter does not. Much more at: www.ursplugins.com
---
Web Page design is copyright © 2008 by Barry Rudolph