Villex Mid-Range Booster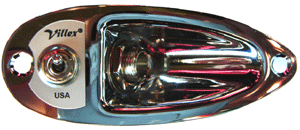 For Fender Stratocaster guitars only, Villex's Mid-Range Booster installs easily and instantly changes the sound with a 7dB boost in the lower mid-range frequencies. Unlike other inboard boosters, the Villex is a passive device that requires no batteries and no maintenance. It rolls off a little of the high frequencies and pumps up the 400 to 800Hz range.
It took me about two minutes to remove the Stratocaster's chrome plate that holds the 1/4-inch output jack, cut the wires to it, and connect them to the booster. After replacing the unit back into the guitar, you'll find that the low profile toggle switch puts the booster in/out and when out, completely restores the Strat's original wiring connections and sound.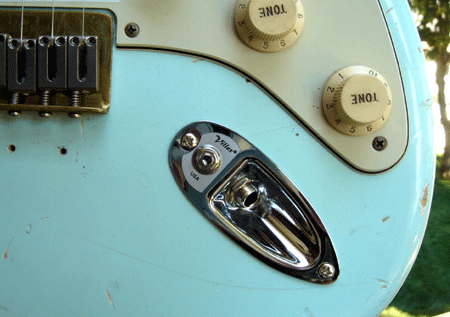 We found the Villex great when playing using the neck pickup and higher on the neck. It makes for a good alternative Blues Rock tone somewhat like a humbucker pickup with a thicker and darker tone.
William Villex recommends for Strats with five-position switches, adding the Booster will raise the level 8.5dB and restore the lost mid-range when using pickup switch positions two and four.
Give your guitar a much-deserved gift with the Villex Mid-Range Booster SJMB at $112 MSRP. For more information, go to: www.villex.com
---
Web Page design is copyright © 2008 by Barry Rudolph