Waves iGTR Personal Guitar Processor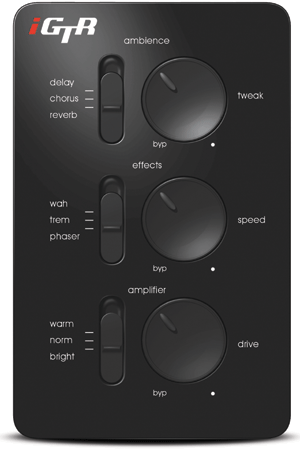 Waves put the sound of their software-based GTR family of guitar amp tone processing into a portable pocket unit called the iGTR. Running on four, included AAA batteries (or any 6-12-volt DC adapter), iGTR comes with a belt-clip for wearing the cigarette pack sized unit everywhere you go. With it you have a full compliment of virtual amps, variable-speed modulation effects and cool-sounding ambiences.
The three amps are called: Warm, Normal, and Bright and have adjustable drive for sounds and styles from smooth jazz to aggressive metal overdrive. The adjustable modulation effects are phaser, tremolo, and wah, and ambience treatments include reverb, chorus, and delay.
The unit includes a 1/4-inch guitar input, a mini stereo auxiliary input with extra patch cable for connecting and jamming along with your iPod, CD, cassette tape deck or an audio feed from your computer and the two mini-stereo outputs for connecting headphones or multimedia speakers. The separate guitar and aux output level controls let you mix together your music player's output and your guitar's sound in any way.
Along with guitar/player/producer Oliver Leiber, I check out iGTR here in my studio. We found the unit super for working out guitar parts for songs and for general practicing. Ideal for "on the go" musicians in the tour bus, connecting a music player to it works out great for learning new songs. We both especially liked the funky Autowah effect, the progressive and smooth distortion control and the unit's small size. The iGTR Personal Guitar Processor sells for $100.00. For more details, visit www.waves.com.
---
Web Page design is copyright © 2008 by Barry Rudolph