MV2 Dynamic Processor from Waves

Read Barry's Mix Magazine Feature Article On Compression and Compressors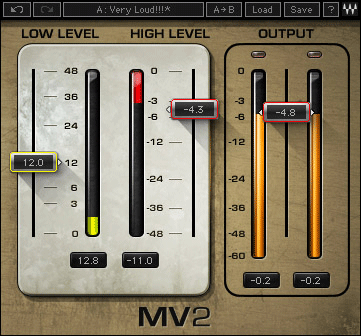 One of two new dynamic processors (the other is a surround version called MV360), the MV2 comes as a mono or stereo dual zone compressor. Dual zone means that the MV2 has two sections each with its own fader: the low level section compresses and raises the level of audio below a certain threshold leaving higher levels as the were. The second section functions like the Waves Renaissance Vox plug-in to handle higher levels. MV2 is now included in Waves Mercury, Diamond, Platinum, Gold and Broadcast & Production bundles, and it is available at no additional charge to existing users of those bundles covered by the Waves Update Plan.
I installed the MV2 into my Pro Tools rig easily--it runs under the new Waves 6.0 Waveshell. For lead vocals it's the best at bringing up soft sections without squashing heavily when the singer starts singing louder. This is always the main consideration when setting a conventional vocal compressor: a compromised must be reached where the soft vocal passages are louder with little detriment to the loud moments. MV2 makes this issue an easily forgotten memory.
I highly recommend MV2 for its easy operation and great sound. I found it to work especially well for male singers for lifting verses sung at or near the bottom of their singing range. It should be the first compressor choice especially for novice users of compressors. For more information, visit www.waves.com.
---
Web Page design is copyright © 2008 by Barry Rudolph