Waves Studio Classics Collection

Read Barry's Mix Magazine Feature Article On Compression and Compressors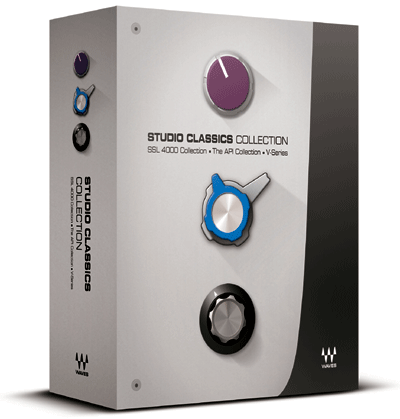 As long as I've been a recording engineer, I've never heard of anybody ever mixing music using Neve, API and SSL consoles at the same time on the same song in the same studio. Waves makes this "mixer's fantasy"--the simultaneous access to all these consoles' sonic characteristics--a virtual reality with their Studio Classics Collection. The Studio Classics Collection combines the award-winning SSL 4000 Collection, the API Collection and the classic British V-Series--the most revered and legendary console channels and compressors ever--into a single plug-in bundle.
Available for chaining in any combination, the Studio Classics Collection starts with three, Solid-State-Logic plug-ins: the E-Channel (Based on the black-knob EQ); the G-Master Buss Compressor; and the G-Series EQ292. Next they add the Automated Processes Inc. processors with the three-band 550A; the four-band 550B; and 560 Graphic EQs plus the API 2500 stereo bus compressor. The British V-Series follows with: V-Comp, a stereo compressor/limiter with feedback and a built-in de-esser; V-EQ emulates the famed English four-band console equalizer and V-EQ3 is modeled after two different vintage three-band console EQs.
Having used both the hardware and software versions of these processors, I can say having them all at the same time is miraculous! Each console has its strengths and unique sonic character and now I can use those characters throughout my Pro Tools mixes. I find the SSL channel great for drum tracks, the G-Master is an excellent stereo bus compressor and the V-Series perfect for electric guitars, pianos and vocals while the API is especially good for carving up badly recorded drum tracks and smooth equalization on orchestral recordings.
Available Native (RTAS, AU, VST) and TDM, the Waves Studio Classics Collection is the créme de la créme of plug-in processors and some of Waves' finest products yet. Much more at www.waves.com.
---
Web Page design is copyright © 2008 by Barry Rudolph