Wilson Effect Wah Pedals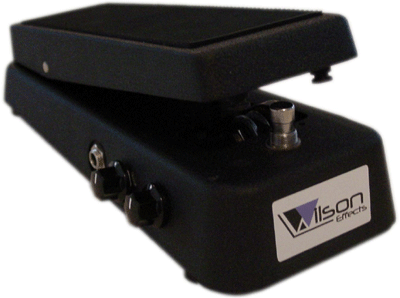 In the quest for the ultimate wah-wah, Wilson Effects who manufactures many different pedals, emulated and then improved on the vintage Italian wahs and Boomerang wahs of years ago. Wilson now makes several wah-wah pedals but the most popular is the Rippah Q-wah. It comes in several variants.
The original six-position Rippah Q-Wah (pictured) is $160 and has six different Q or quality settings for the quack filter. Then there is the Vintage Spec, a six-position Rippah Q-wah at $180. But the twelve-position Rippah Q-wah also $180 and the Vintage Spec Twelve at $200 offer even finer control over the exact sound.
All pedals share these components and features: Italian style tapered potentiometer, true bypass switching, fuzz buffer, Switchcraft jacks, a Halo replica inductor, Boss-style 2.1mm power jack and 9v battery clip, vocal sweep tuning knob, 6 or 12 position Q selector switch, bass and gain tuning knob, volume control on the output buffer, metal construction and one-year warranty on parts and labor.
There's much more at: www.wilsoneffects.com.
---
Web Page design is copyright © 2008 by Barry Rudolph