Yamaha MG Series Mixers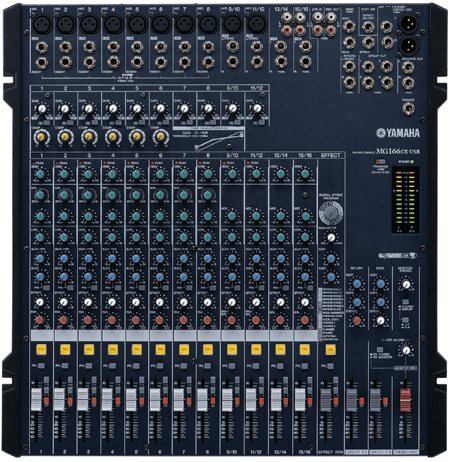 The line of non-powered Yamaha MG Series Mixers has now grown by six different new models to cover any application. The two new mixers add USB connectivity for interoperation with computer-base music workstations. In addition, all MG mixers come with easy-to-use, single control compressors--a technology Yamaha developed for the EMX powered mixer line. The right amount of compression is as simple as turning a single knob until things sound smooth and right--perfect for "on the fly" live performance.
The new MG166C and MG206C mixers ("C" means compressor) have Neutrik™ XLR connectors, high-quality mic pre-amps, exacting EQs, redesigned faders, an environmentally friendly finish and bright LED metering that you can see in daylight.
The MG166CX and the MG166CX-USB mixers come equipped with Yamaha's digital SPX multi-effect processor (X means SPX). The MG166CX-USB, MG166C-USB and MG206C-USB include USB ports and are specifically designed to simplify and enhance live recording. All three USB models come with Steinberg Cubase AI4, a version of the industry-leading production and recording digital audio workstation software. The six new MG Series mixers range from $449 for the MG166C to $799 for the MG206C-USB. For more information on the MG Mixer series, visit www.yamaha.com/proaudio.
---
Web Page design is copyright © 2008 by Barry Rudolph