Yamaha Tyros3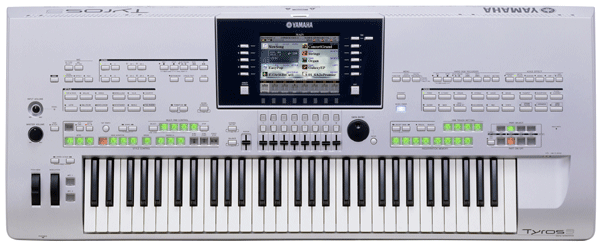 The Tyros3 Arranger Workstation keyboard is all about control and nuance--two abilities shared by all music instrument virtuosos. Using the most advanced instrument voices to date for Yamaha, Super Articulation 2 created with the Articulation Modelling, lets players simulate the subtle sonic nuances and performance techniques associated with wind instruments. Legato, staccato and vibrato articulations are now super easy to add to the keyboard's internal sounds.
In addition to an all-new layout of controls and faders there is a high-resolution, TFT 7.5-inch VGA color display to edit sounds and performances. You get organ sounds that replicate vintage tone-wheel organs with rotary speakers and a new three-layer grand piano from the CFIIIs Concert Grand Piano and CVP Series of Clavinova digital pianos.
For the guitar sounds, there are muted strings, finger slides, fret noises and harmonics. Wind instrument voices include the ability to add breaths that sound like a person actually playing a clarinet, saxophone or bending Blues notes on a harmonica. There are 450 musical styles available to provide a professional-sounding backup band and the one-button Registration Memory option lets users recall favorite settings. Song Creator also helps orchestrate and arrange songs with the help of a 16-track sequencer. Tyros3 comes with studio-quality DSP effects like reverb, distortion and chorus along with the ability to perform one-touch recording onto the hard-disk recorder. Tyros3 sells for $4,899.99 MSRP. Check: www.yamaha.com.
---
Web Page design is copyright © 2008 by Barry Rudolph