Audix i5 Dynamic Microphone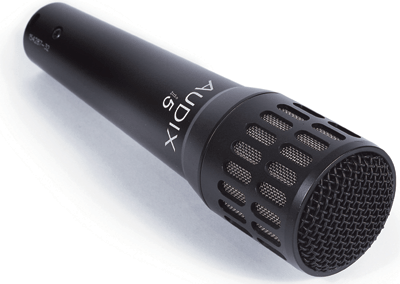 Audix's i5 is a good choice for something different and better than the usual stage vocal and studio instrument dynamic microphones offered. The i5's shorter length is a big consideration for me as a recording engineer when tasked with placing mics close to snare and tom-tom drums in the studio. Even with the XLR connector sticking out the back, I have a lot less trouble getting the i5 in close to a snare drum where it sounds best.
Speaking of sound, on a variety of sound sources I compared the i5 to brand new Shure SM57 and Heil PR20 UT dynamics here at my Tones 4 $ Studios. The i5 beat the Shure in frequency response with a more wide-open sound--more top and bottom. The i5 has a bump or peak at around 5kHz making it good for snare drums or even acoustic guitars--you would not have to EQ these recordings as you would using the Shure.
Sometimes for demo scratch vocals, singers like to sing with the monitors blasting in the same room. The i5 is now my first choice for this application--it beat both the Shure SM57 and Heil PR20 UT in rejecting the most sound coming in to the rear of the mic. As a way to control feedback, this is an important consideration when buying the i5 for live stage work.
I have to say, when used on live vocals, that the Heil's off-axis response was more natural-sounding with the Audix i5 coming in a very close second and the SM57 far back in third place with a very nasally off-axis response. If you're wondering, if there is a lot of off-axis sound, it better be good sounding because that sound is mixing in with the desired on-axis sound affecting the total quality. The i5's off-axis sound is so low in level that it becomes a non-issue anyway.
Other details are: the i5 is designed, assembled and tested by Audix in the USA using a die-cast zinc alloy metal body coated with black E-coat; it weighs 6.5 ounces, is 5.6-inches long and has a five-year warranty. It has a 50 Hz to 16 kHz frequency response and the ability to handle sound pressure levels in excess of 140 dB. Every model is attractively laser etched with its model and serial number. An important investment in good sound, the Audix i5 sells for $179 MSRP and for more information, check www.audixusa.com
---
Web Page design is copyright © 2009 by Barry Rudolph