Avantone BV-1 Multi-Pattern Tube Condenser Microphone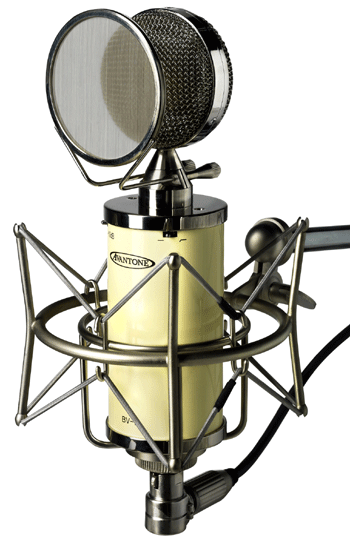 The new BV-1 tube condenser is the "top of the line" for California-based Avant Electronics. The "lollipop" style mic has a 34-mm diameter gold-sputtered Mylar dual capsule with a 3-micron thick diaphragm encased in a separate head assembly above the mic's bottle body.
The "butter cream" colored nickel body cover slides off to show a 6072A tube and a premium CineMag output transformer inside. The mic has both -10dB attenuator and 80Hz roll-off toggle switches mounted on the body right under the head. The matching color power supply has a nine-position pattern switch for selecting polar patterns ranging from omnidirectional to cardioid to figure-of-eight.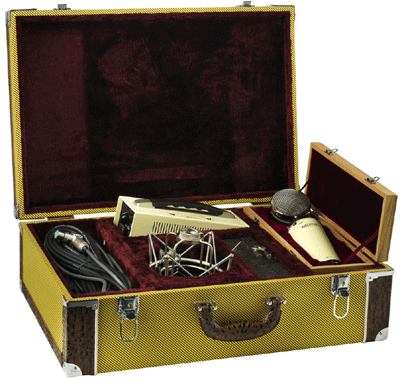 The included kit is impressive as well. You get a stout, shock mount basket and a removable metal pop screen made with a micro-screen for superb protection against wind and plosives from close-singing vocalists. Gotham Audio supplies the beefy multi-core connecting cable. Made in Switzerland, it features vintage-style XLR multi-pin connectors made by Switchcraft.
The mic, power supply, all cables, shock mount and pop filter all fit into an all-wooden and luxurious, retro-style tweed and faux alligator trim suit case lined with purple plush. It's very snazzy! The mic gets it own plush-lined wooden box that goes into this travel case.
I tried the BV-1 at three different studios. For vocals I liked it better than the studio's Siemens-badged Neumann U47 because the BV-1 was smoother in the high frequencies; the vintage Neumann was almost sibilant by comparison. Compared to a Neumann M-149 (again in cardioid pattern) at another studio, the BV-1 had less bottom end and again a smoother top. It sounded good on both vocals and as a percussion overhead mic.
At my Tones 4 $ Studios, the BV-1 proved to be an all around workhorse good for backing vocals, percussion overdubs, room mic (in omnidirectional pattern) and narration voice-overs. I think the BV-1 and kit is a tremendous value and a great sounding addition to any studio mic locker. I hate to give it up! It sells for $999 and for more information, check www.avantelectronics.com.
---
Web Page design is copyright © 2009 by Barry Rudolph