Avastor PDX Pocket Drive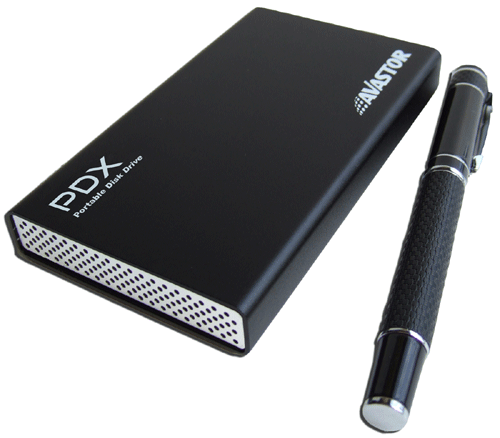 In this day and age of bigger, more powerful computers and the "bloated" operating systems and the huge applications and files they use, there is a big need for smaller, portable external backup hard drives--especially true for laptop computer users. Avastor has the PDX Pocket hard drive line with many models and prices to suit anyone's requirements from simple backup of office files to multimedia systems that push drives to the limits of endurance and reliability.
The PDX is travel-ready with a choice of either a 5,400 or 7,200-RPM high-capacity 2.5-inch SATA II hard drive inside. Oxford Semiconductor chipsets are used in all drives. The drives come with either a 2.0 USB connection as in the PDX 200 model or, with the PDX 800, there are two Firewire 800 ports, one FW 400 and one 2.0 USB port, Both models have rugged, aluminum cases to maximize heat dissipation, and up to 500GB of storage space.
I tested the PDX 800 with a 7,200 RPM and 320GB of storage here at my Tones 4 $ Studios. Since I use Pro Tools, the 7,200-RPM speed is essential for playing and recording multi-track audio. I liked the vented case; it acts as heat sink to keep the internal drive temperatures lower--key to drive longevity. The drive worked fine spooling huge track counts for a mix I was doing.
IfIf you are using the drive for backup only, you can save money by going with a 5,400-RPM drive. All drives come with an on/off switch so you can leave it connected but not spinning--also a good idea for a longer drive lifetime. These drives are bus-powered meaning they normally don't require an external power supply--your computer's USB or Firewire connection supplies the power but if for some reason your computer's Firewire can't power them (such as with a iLink Firewire 400 connection), you can use the supplied "Portsaver" cable to draw power from a USB port and power the drive.
The Avastor PDX drives start at $108 and up to $198 depending on speed and size. They all come with very nice cushioned carrying cases and a set of cables that connect them to any computer known to man. Lastly, they are all backed by a limited three-year warranty. Much more about these little gems is at: www.avastor.com
---
Web Page design is copyright © 2009 by Barry Rudolph