Music Smarts from Berklee Press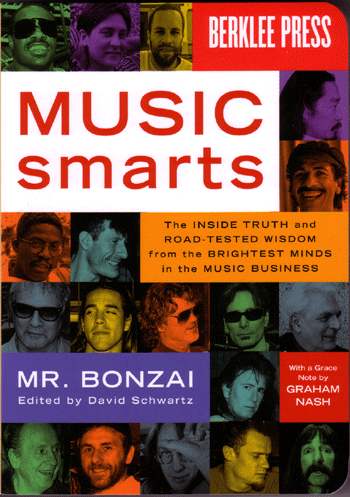 It's not often we mere mortals get even an authentic and uncensored inside look into the mind of a single creative music person. We get, at the very least, a sneak preview into hundreds of artists' and other music business minds within the pages of Music Smarts. Editor David Schwartz and music journalist/photographer/bonhomie Mr. Bonzai seem the perfect pair to channel what is on the minds of some of the most famous, influential and successful music business people out there. Music Smarts is a collection of quotations, observations, jokes, and sage advice from a who's who of recording artists, musicians, composers, singers, comedians, producers, engineers, executives, songwriters, managers, and even a scientist!
The book is a fast and entertaining read organized into topics that all music people are, more or less, uniquely opinionated about. The topics are: Music Makes The World Go 'Round; Getting Started; Careers; Technology; Taking Care Of Business; The Lifestyle; and Heart And Soul. These topics are further divided into more specific issues of interest. The Careers topic alone is worth the book's $15 price and has quotes and dead-on advice about "Getting It Together", "Taking It On The Road", "In The Studio", "Producing" "Songwriting", "Engineering", "Studio Musicians", "Scoring", "Keys To Success", "Finding Your Identity", The Name Game", "Looking Back," and "Fond Memories."
Music Smarts exceeds on a number of levels: it's vastly informational both in depth and breath, it's entertaining for music business newcomers to seasoned professional--there's lots of funny stuff here; and it's inspirational to hear such revered people talk about their early days before success. Music Smarts is a 200-page paperback book that might be small in size but it's packed with essential knowledge and feel-good anecdotal stories. It sells for $14.95. Mr Bonzai's Web site is: www.mrbonzai.com. The Hal Leonard Corporation distributes Berklee Press titles. Check: www.halleonard.com.




Music Smarts
---
Web Page design is copyright © 2009 by Barry Rudolph