Core X2 Acoustic Cable from Core One Creative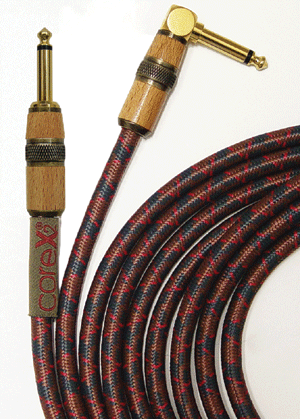 The Core X2 cables were specifically designed for acoustic guitars where their warm and natural tone is easily lost in the translation of their pickup's sound to the guitar amp or studio direct box.
An X2 cable uses three separate wire gauges of 99.99% oxygen-free copper wrapped with audiophile grade components in a flexible argyle patterned woven jacket. As a finishing touch, the cable ends terminate in both a right angle and straight gold-plated connectors encased in hardwood and decorated with vintage brass rings. The 24-karat tipped connectors resist corrosion and provide solid electrical contact with every use.
Made for professional and home studio and stage, the X2 cable's quad-balanced design and dual shielding is said to reject noise and eliminate radio frequency noise and/or electromagnetic interference from nearby electrical sources.
I put a sample cable to the test at a studio I work at in Laurel Canyon, CA. Being on top of a low hill, it is adjacent and "in the line of fire" of several broadcast and communication transmitters. We had no interference and the sound was warmer in the low midrange as compared to the other (more expensive) guitar cables available to us. We tried it on a Transperformance Strat with a piezoelectric pickup and found it to perfectly translate that guitar's sound to the Dumble Overdrive Special amp we used.
Core X2 Acoustic Cables are available in 12-feet ($59.95) and 20-feet ($79.95) lengths. For more information, check: www.coreoneproduct.com or call 310-539-1692 ext: 302
---
Web Page design is copyright © 2009 by Barry Rudolph