Danelectro Hodad DH-1 Miniature Practice Amp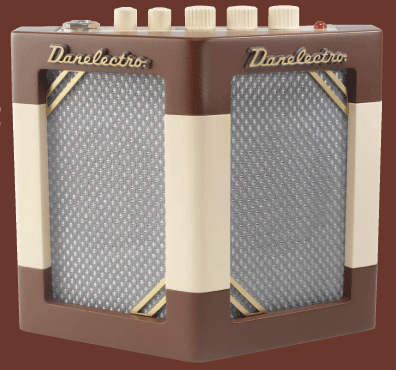 About as gnarly as mini amps get, the little Hodad has two speakers to handle it's mighty 1.5-watt output (or 1.0 watt with the supplied Danelectro zinc battery). The Hodad looks like a munchkin-sized old time Supro combo guitar amp you'd find in a grass shack somewhere on a beach in the South Pacific during WWII.
Real guitar amp controls grace the Hodad. Besides the 1/4-inch input jack, you get Tremolo on/off, Tremolo Speed (on the back of the amp), Echo on/off, Tone control, Gain control, and master Volume control--almost too many controls to fit! The amp runs on a single nine-volt or the included power supply.
Brian Stewart and I here at the magazine fought over this one when it came it and we both found Hodad to be more versatile then other pocket sized mini amps we've tried. It's loud enough to play along with a good stereo and you can get both a respectable clean and crunch tone with effects--most mini amps have one sound and one sound only. We both also love the look that includes real speaker grill cloth, rubber feet, headphone jack, and an on/off LED. We found the unit's size and the two speakers radiating left and right made a big difference in the unit's sound and usability.
Great to practice and play along with your laptop rig or stereo, Hodad sells for $59 MSRP. For more about it, check www.danelectro.com.
---
Web Page design is copyright © 2009 by Barry Rudolph