Disc Makers Reflex Daisy Chain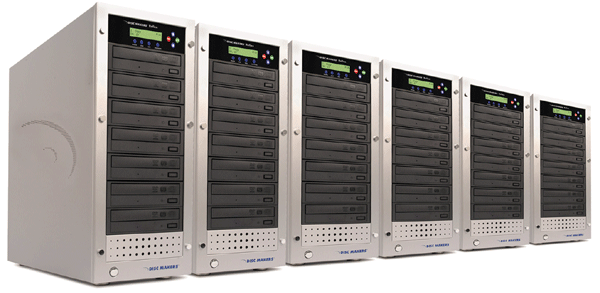 As an owner of Disc Makers' Reflex 1 CD/DVD duplicator system for two years now, I can say it has performed perfectly making copies of CDs and DVDs I burn within my Mac. About all I can say is that I wish I could copy more than one at a time! Well the Reflex Daisy Chain system makes it possible to control up to hundreds of burners from a single source deck.
Studio owners, media and publicity mavens, or corporate information bureaus would all benefit from a Reflex Daisy chain. The system is nearly infinitely expandable using 7 or 10 drive towers. Each tower includes a 320GB hard drive that stores up to 63 full size DVD images. A 7-drive unit will make 56 DVDs or 105 CDs per hour, while the 10-drive units can turn out 80 DVDs or 150 CDs per hour. You can mix 7 and 10-drive models, and because the duplicators are autonomous, users can add additional units any time.
All Reflex Daisy Chain Series units are completely standalone and provide exact digital copies of your CD and DVD master discs. The Reflex 7 Daisy Chain is $795 while the Reflex 10 Daisy Chain sells for $895. To learn more about Disc Makers' complete line of duplication hardware, visit www.discmakers.com/duplicators.
---
Web Page design is copyright © 2009 by Barry Rudolph