Empress Effects' Superdelay Pedal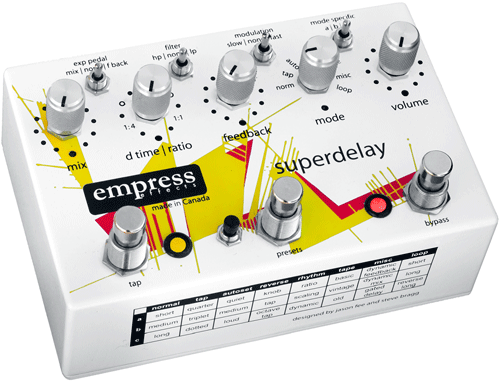 The Empress Superdelay is the 'mother' of all stomp pedal delays because it produces any delay sound and a few you could never have dreamt of! Made in Ottawa Canada, Superdelay is a rugged double-size stomp box that is powered by a wall-wart power supply only--required because the unit has a 24-bit A/D and D/A chipset and uses 32-bit math for audio processing. The sound is gorgeous with a 105dB signal-to-noise ratio and up to 2.8 seconds of delay time available!
The unit has eight modes each with three sub-modes--modifiers that extend the sonic options for each mode. The eight modes are: Normal delay, Tap delay, Autoset where delay time is automatically set predicated on your playing tempo, Reverse is where the delay signal plays backwards, Rhythm or multi-tap, Tape mimics old-time analog tape echo, Misc is for dynamic gated delay, and Looper, a twelve-second long loop mode where you can infinitely overdub and build huge multi-tracked flourishes.
I tried out Superdelay here at my Tones 4 $ Studios and was impressed by its quiet operation and crystal clear sound. After reading the excellent manual, I went for the 'oddball' stuff like the Reverse, Rhythm and Loop modes--this pedal has it all--there are no dodgy sounds. There are four control knobs: Wet/Dry Mix, Delay Time/Ratio--both a delay time controller and time multiplier/divider for changing a quarter note delay to a dotted delay etc, Feedback, Mode selector knob, and output Volume. Four switches change the three sub-modes: Modulation, Hi/Lo filter, and the external expression pedal assignment.
I created many great patches and stored them right on the pedal itself (there are eight memory locations) for instant recall. The unit has a short learning curve but is so well-organized that you'll get and remember it instantly. I'm using it for live playing and as a new piece of outboard for my Pro Tools mixing.
The Empress Superdelay brilliantly combines the effects of at least three pedals I can think of yet sells for $449 MSRP. For way more information and great sound sample clips go to: www.empresseffects.com
---
Web Page design is copyright © 2009 by Barry Rudolph