Euphonix MC Mix/MC Control V2

I love everything about Euphonix's MC Mix DAW controller. MC Mix and MC Control borrow their designs from Euphonix's high-end MC Pro and System 5-MC systems--they are a lower cost modular approach to control DAWs using the EuCon protocol for Logic Pro, Cubase, Nuendo, Digital Performer and others. HUI protocol is used for Pro Tools, and Mackie Control protocol for Final Cut Pro, Live and others.
MC Mix is a standalone eight-channel mixer surface with complete access to eight tracks at a time. You can adjust: pan pots, solo, mute, automation controls, enable record on a track and tweak plug-in parameters mapped to the touch sensitive pan pot knobs. You can connect multiple MC Mixes plus an MC Control, for up to 36 simultaneous faders total. All five units would (physically) attach to one another for a seamless mixer controller unit.
My single MC Mix unit went to work immediately for my Tones4$ Studios' Pro Tools HD rig. Installation and setup went flawlessly and super easy--the MC Mix connects via an Ethernet cable to my hub--kudos for not using another USB or Firewire port! Once configured in my PT's Peripheral preferences, I was off to mixing with eight faders under my two hands--kinda like old school for me.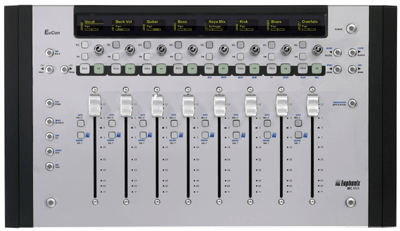 The unit's sleek and low profile feels great and it doesn't take up much of my limited desktop space. The eight 100-mm motorized faders respond super quickly and I like the OLED (that's organic light emitting diode) screen above the faders that show the eight track's name, level, pan position, inserted processor(s), track level (clip peaks and normal) and more through a clever shift key system. All faders and pan pots are touch sensitive so, if you have automation enable, just grab and make a change just like an old analog console. (I'm sold on this whole system and so is my carpal tunnel fried from mousing endlessly during mixing).
You can bank across your onscreen mixer panel in jumps of eight or "nudge" one channel at a time. You can put a track in record on the fly and punch in on screen. Push the shift key and the last eight solo and mute controls become transport controls. (cool) Add an MC Control and you'll have a comprehensive dedicated transport controller surface.
Much more than I can fit here, but know that any DAW program is easily interfaced and controlled with both the MC Mix and its companion, the MC Control. MC Mix sells for $999 MSRP and for more information, check www.euphonix.com
---
Web Page design is copyright © 2009 by Barry Rudolph