Eventide PitchFactor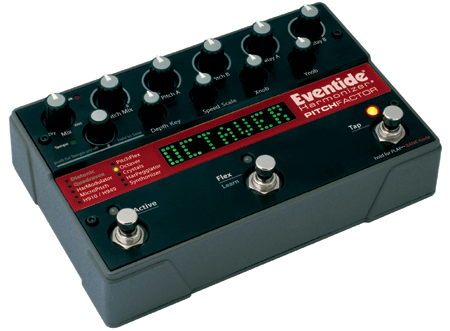 This one I've been waiting for! Eventide's legendary Harmonizer® now comes as a guitar pedal called the PitchFactor. PitchFactor packs into a cast metal floor pedal ten of Eventide's trademark Harmonizer stereo pitch and delay effects with up to 4 voices of intelligent pitch shifting and 1.5 seconds of stereo delay. There are 100 presets, instant program change, choice between true bypass and DSP bypass (useful when using the unit as a line level effect), tap tempo/MIDI clock sync, three footswitches for immediate preset access, and complete MIDI interfacing and controllability.
Familiar effects originally spawned in the high-end H3000 Harmonizer family include: Micropitch, Diatonic Shifter, Quadravox™, Harmodulator™, H910/H949, PitchFlex™, Octaver™, Crystals™, Harpeggiator™ and Synthonizer™.
I'd tried PitchFactor after installing version 2.3 software using the USB 2.0 port and a PC connected to Eventide's Web site. The update has new scales for the Diatonic and Quadravox patches and you can lock Expression Pedal programming. Now you can select user presets using the select knob, the tuner calibration has a wider range, and PitchFlex responds to MIDI continuous controller messages.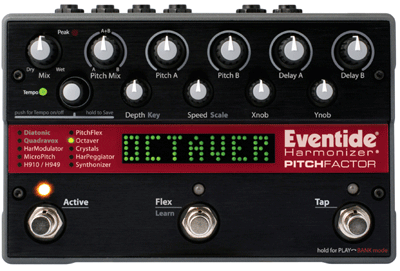 In the studio we were struck how super quiet and clean all the patches were--this is a studio level quality unit disguised as a stomp pedal! We played a Hamiltone Strat patched into the unit then into a Dumble Overdrive Special amp--we went right for the Octaver patch. Octaver tracked perfectly and, unlike other octave dividers, there were no dead spots. We liked the tried and true H910/949 sounds, Synthonizer is a funk machine, and MicroPitch-based patches have an organic, watery sound.
Like the famed line of Eventide harmonizers, all the classic patches are ready and waiting for tweaking. PitchFactor is a serious and deep pedal that requires (of me anyway) some "wood shedding" to explore, learn and take full advantage of its immense power. This, without a doubt, will be a rewarding experience for anyone. The Eventide PitchFactor sells for $579 MSRP and for more information, visit: www.eventide.com/AudioDivision/Products/StompBoxes/PitchFactor.aspx
---
Web Page design is copyright © 2009 by Barry Rudolph