Secrets of Recording from Focal Press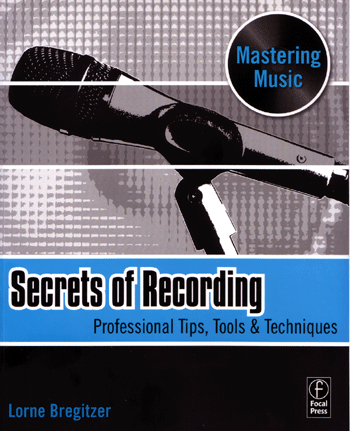 The full title, Secrets of Recording--Professional Tips, Tools & Techniques says it all. Author Lorne Bregitzer offers an updated and current look at studio wizardry that's aimed at the intermediate to expert recordist who would like to see how other pros do it. Above all, versatility is stressed because the more tools and techniques you are acquainted with, the better you can handle any work situation or artist/producer request.
After a great first chapter one about checking your studio working area and discussing things like microphone placement, sound proofing, click tracks and tempo maps, software like Pro Tools and Reason, editing, headphone mixes and more, the book dives right into the new challenges new recording engineers will face these days. Chapter two covers timing correction using Digidesign's (Pro Tools) Beat Detective and Elastic Time software--a fact of life these days if your tracks are to sound as solidly locked in tempo as what's on the radio.
Chapter three goes into replacing sounds using one of my favorite sample replacers, Drumagog and Digi's Sound Replacer. You'll get some cool tricks on using Melodyne and AutoTune in Chapter four on pitch correction. I like that at the end of all the chapters there is the "Final Word" paragraph(s) that summate the reasons that justify all the work these processed entail.
Chapter five gets you into a primer on effects including compression, equalizers, delays, guitar cabinet simulators and convolution-based effects. Chapter six is about adding MIDI to your masterpiece which naturally leads you to a fine chapter seven on Mixing with loads of inside techniques using reverb, delays, pitch shifting and Pro Tools automation system. The book fittingly ends with chapter eight that encourages you to master your own production.
Secrets of Recording from Focal Press is great read and quality reference source to have around the studio. I keep my copy adjacent to my Pro Tools HD rig at my Tones 4 $ Studios when I want see how Lorne does it! It sells for $29.95 and for more about it go to: www.focalpress.com




Secrets of Recording--Professional Tips, Tools & Techniques
---
Web Page design is copyright © 2009 by Barry Rudolph